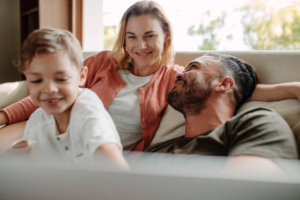 There's a wide range of sophisticated security system cameras, which you can mix and match to build a surveillance system to suit the specific security needs of your home and lifestyle.
Advances in video and wireless technology have made full-color, full-motion and high-resolution video images the standard among security system providers. Not only can you set up complete video surveillance throughout your home, but you can choose from various types of security cameras designed to deliver indoor or outdoor views, in well-lit conditions or when night vision is needed, and even remote monitoring you can control from your smartphone, tablet, or laptop.
Indoor Cameras
All security cameras tend to offer a wider field of view than standard cameras, but the "dome cameras" offered by most top security providers take this even farther. With full 360 degree coverage, a single camera can monitor an entire area. At the other extreme, a "fixed lens" camera gives you the ability to focus permanently on a very specific area, ideal for the highest quality video image of the places that matter most.
Outdoor Cameras
Outdoor cameras offer more durable and weather-resistant enclosures, with components designed to capture wider exterior views and accommodate the full range of outdoor lighting conditions. With many of the options offered by indoor surveillance cameras (including remote pan and tilt control, Infrared night vision, motion detection and wireless connectivity), you'll be able to give your yard and immediate neighborhood the same level of protection as the rooms of your home.
Motion Detector Cameras
Motion detector cameras combine a motion detector with a camera, delivering a camera that waits for activity before it begins transmitting or recording. This not only saves you countless hours of DVR storage space, but also adds an additional level of protection by alerting you when it senses suspicious activity.
Adjustable Cameras
For the utmost in control and coverage, your system can include adjustable security cameras. Fitted with motor-driven actuators, these cameras can be programmed to move automatically to capture a wider field of view than fixed security system cameras. Even better, most offer remote pan, tilt and zoom control so you can truly look around the area and focus on what's most important at the time.
Wireless Technology
Wireless cameras are a necessity for anyone needing video surveillance on a wireless system and a great solution if you need a camera somewhere that can't be hardwired. Because most top security providers offer complete wireless security systems, you can find wireless versions of all types of security cameras — indoor, outdoor, fixed, motion-sensing and more.
Cameras with a Security System
Security cameras are only half of the video surveillance equation. To truly integrate security camera feeds into your system, providers offer several types of devices that give you flexible viewing and recording features. When you have more than one camera hooked up to your system, you have the choice of switching between feeds or using a video splitter to view multiple feeds simultaneously. Adding a duplicator to the system enables more than one person to monitor the camera feeds at any given time. For recording, some security providers may offer DVRs optimized for security system cameras, fully programmable to hold on to as much or as little of the past feeds as you need.
The flexibility of a video surveillance system goes beyond mere security monitoring and playback, beyond even the extremely useful "nanny cams" to keep an eye on children, pets, and disabled family members.
Coupled with remote monitoring and home automation features, you can verify visitors to your home and unlock the door to give them access while you're away and lock up again when they're done.
Get a better idea of what the top security providers, like First Call, have to offer or speak with one of our security specialists at (760) 332-8900 to find out more about how video surveillance cameras fit into your ideal home security package.