What Is the Best Home Security CCTV Camera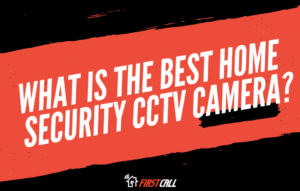 What Is the Best Home Security CCTV Camera
CCTV stands for closed-circuit television, and it has become the blanket statement to cover all types of security camera systems. The term closed-circuit came into being because all the cameras were connected in a circuit with many monitors. But unlike your regular televisions, the CCTV systems did not broadcast to the public, instead of to a set of personnel in a closed organization or premises. These security systems have been used to deter and prevent crime for a long time and have seen their share of technical advancements.
The first CCTV camera ever developed was back in 1942, when a group of German scientists devised it to monitor the launch of V2 rockets. Similar technology was later used to analyze the atomic bomb as well. 
However, just like any other technology, as it became commercially available, different rivaling companies started making their set of CCTV cameras to get a part of the market share. So today, there are countless alternatives that you can choose from. Many features have come along the way, such as; wireless connectivity, night vision, and intelligent features.
The Best Home Security Cameras of 2021
With the countless options in the market, you get diversity. As not all cameras cater to all the demographics that require them. So here are four security cameras that are listed based on a quality that none of the cameras in the market can beat: 
Wyze Cam – Best Budget Security Camera
Wyze used to have cameras that were even more ridiculously low priced! But you cannot imagine a price lower than $30 for a camera that can do this much. Not only does this camera offer HD quality live streaming in its video feed with motion detection and night vision, but it also has a dedicated and well-tailored application with 14 free days of motion-based cloud storage. 
If you do not want to use cloud storage for your feed, you can always use an SD card to store the footage. Obviously, you would have to buy the card separately. This can operate with your smart home assistants such as Alexa or Google Assistant using voice commands. It also detects particular frequencies such as smoke, so it can also alert you in the case of fire!
Alro Video Doorbell – Best Doorbell Camera
This is one of the best smart security cameras on the market. Even though it might be a bit pricey, especially compared to the first one in the list, this has the features to back it up. Firstly, as it is an outdoor camera, the camera's build and resilience are very rugged. It can bear water and other climatic conditions that outdoor cameras are expected to face. 
It has unique arm and disarms modes for when you are not home to receive remote alerts. It comes with a very cheap cloud-storage subscription plan at $3 per month. You get extra features such as a custom person, animal, and vehicle detection in your live video surveillance feed with cloud storage. It has an integrated siren to scare away any intruders that try to break into your property while you are not there.
Arlo Pro 4 – Best Outdoor Security Camera
This is the latest device in the Pro series of Arlo. And like previous Arlo security cameras, it makes sure it is worthy of its place on this list. This can record and send you a live stream at 2K resolution with a 160-degree field of view and a full-colored night vision. This camera even comes with a built-in siren and spotlight, 2-way talk, and compatibility with smart home systems, including the Apple HomeKit, amongst several other features.
This camera costs $200, which is a fantastic price for the powerhouse that it is. Just like the one above, Arlo gives a $3 cloud subscription per month where you can see motion zones, get smart alerts, and see a 30-day event history recorded by the camera.
Nest Cam – Best Compatibility with Google Assistant
This is one of the best battery-powered cameras on the market. While this may mean that you need to take care of its charging, it has a plethora of functionality that it ensures because of the battery backup. With a 130 degree field of view in 1080p streaming, this camera can 2-way talk and night vision, amongst other handy features.
Unlike many other cameras in the market, this camera has smart features that do not need to connect to a cloud. If you are a regular user of Google Assistant and other Google services, you would be delighted with this camera. 
How to Choose a Home Security CCTV Camera
If you have seen all the cameras on the list, you will realize that you need to work out your exact requirements to know which one suits you best. Here are a few things you need to consider for a security camera:
Type of Camera
The type of camera you need will depend greatly on where you plan to place it. There are many hidden and dome cameras for indoors. Still, if you plan to get one for the outdoors, you would be best suited to getting a wireless camera or a video doorbell.
Power Source
You can get two types of power source options when you get a camera; a battery-powered camera or a hardwired one. Battery-powered cameras give you a lot of flexibility to place your camera around the home. You may have to recharge it once a week, after a few months, or even after a year, based on the use and quality of the camera. Hardwired cameras do not need to be charged, but your placement options become very limited.
Cloud Storage Plans
While you may not realize it at first, you are not just paying for your camera. You are paying for a complete system and will be billed monthly if you have all the features you initially paid for. Before deciding on a camera, ask how much cloud storage you get and how much extra storage costs. You need cloud storage to store large video files and to get alerts.
If you thoroughly consider all these options before you get a security camera system, you are sure to get one that meets your expectations, both financially and in performance!
BEGIN WITH US!
Our experts are part of a hand-selected team of security professionals who will guide
you through a plan that will fit your company.
Home security doesn't have to be expensive, cookie cutter, or by a national chain. We can take care of your family and
home security right here LOCALLY. Stimulate our economy and keep your money and your business local!