What is the benefit of home theater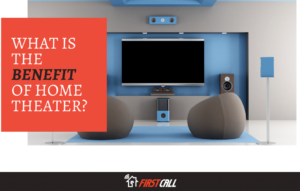 What Is The Benefit of a Home Theater?
Humans are very complicated creatures. For a human to survive healthily both in society and physically, there are many needs that we have to tend to. One of those needs is entertainment, even though some may not consider it a necessity for survival. The human need for entertainment brought rise to theaters, cinemas, and the TV as we know it. And the need continues to grow as we realize how we can make every experience all the better for us. 
Out of the many endeavors of humans to make entertainment as entertaining as possible, the need to make entertainment more immersive and more real helped innovate the home theater as we know it today. Home theaters are based precisely on the experience of a movie theater. Compared to a TV set, movie theaters give an experience of picture and sound that a TV set just cannot match. The sound quality, the size of the movie, and the clarity you see in the detailed picture of a projector are things that your ordinary television cannot give you. That is why people would rather pay to watch a movie and get overpriced snacks, even though renting a movie or watching it on Netflix may be way cheaper. A home theater mimics the experience of a cinema and brings it to the comfort of your home. 
Components of a Home Theater
A home theater is built to give you the surround sound and ambient experience of a theater using several components. Each component has its function and adds a level of sophistication to the experience in its own way. Typical components of a home theater system are:
The center channel speaker has many tweeters and speaker drivers that are tuned to provide top-notch dialogue reproduction in a film. Without it, the movie experience can be very dull and bland.
Front and Surround speakers
The front right and left speakers of a home theater system are designed to emphasize the soundtracks in a film. When dialogue moves from left to right, they play a role in that effect too. The Surround speakers are there to reproduce sound effects such as thuds and crashes. They are integral to a complete home theater experience.
A subwoofer produces the deep and earth-shaking bass that amplifies the experience of a film. 
AV Receiver and Source Components
An AV receiver is the brain of your home theater system. It basically dictates the role of each and every component of your home theater system. It takes inputs from your source components, such as a USB, HDMI, a DVD player, or phone. Your source component should be capable of handling high-quality video to give you the best experience.
High-Quality sound and ambient experience without matching picture quality would massively ruin the home theater experience you want. You need good quality and a sizeable LCD or LED display to match the elaborate sound system's immersive sound experience.
Types of Home Theaters
Based on your needs, there are several home theaters that you can choose from. Each of them varies in their sound and video quality. Here are some types of home theater systems:
Component System
This is composed of separate audio and video components that are linked together using wires or wirelessly. It is challenging to set up, and you need the right components to get the perfect cinematic experience. Still, it allows you to customize the setup how you want to. 
Sound Bars
This is a single-unit sound system that comprises a long horizontal bar that consists of several speakers. The placements of the speakers in the bar allow for stereo and surround sound effects to be produced. Some sound bars come with separate subwoofers. A subwoofer is a larger component and sometimes cannot be incorporated into a bar.
Home Theater in-a-box System
The "in-a-box" signifies that this is a complete sound system that comes with all its components in one box. It is much like a component system; it has a subwoofer, several surround speakers, a Blu-ray disc player, and an A/V receiver. The components are connected by wires. You usually have to connect them with your display device and place them where the components need to be.
Benefits of a Home Theater System
Staying at home and enjoying movies is all the more desirable considering the situation of the world today. And a home theater system is ideal if you want to indulge in movie-watching regularly. Here are a few reasons why you might consider a home theater system over your television or going to the cinema:
You do not have to face the hassles of going to a movie theater, finding parking, and paying for an overpriced experience. You can have a very similar experience from the comfort of your home. You can bring whatever food you like and binge-watch an entire season, no questions asked.

Video gaming will reach a whole new level of immersion with a home theater. When you have crisp imagery larger than life and fantastic surround sound effects, you will be stunned by how you experience your favorite games differently.

If you follow sporting events such as the Olympics regularly, you will have front-row tickets always. You can call all your buddies and feel as though you are right in the stadium, only with a better view!

You will have complete control over the playback. When at the theater, you have no choice but to miss a part of the movie, even if you have to answer the call of nature. But with a home theater, you call the shots!

Movies are not the only restriction with a home theater. There are multiple top-notch movie streaming services, and you can enjoy your favorite shows on a big screen and surround sound.

The level of comfort you have with a home theater is entirely up to you. Whether you get a recliner or a sofa-cum-bed, you can enjoy the movies with the comfort level you need. And you do not have to worry about people making noise either.
Home theaters are a fantastic upgrade for someone who loves to spend their time watching movies or TV shows. It will bring a new life to your family gatherings, be it your immediate family or some relatives who are visiting. So having a home theater might be the best thing you invest in if you value home comfort but really love a cinematic experience.
BEGIN WITH US!
Our experts are part of a hand-selected team of security professionals who will guide
you through a plan that will fit your company.
Home security doesn't have to be expensive, cookie cutter, or by a national chain. We can take care of your family and
home security right here LOCALLY. Stimulate our economy and keep your money and your business local!